2018年8月15日-17日 拓斯达科技即将亮相CIAIE 2018
发布来源:拓斯达 发布时间:2018-04-11
CIAIE 2018第八届中国上海国际汽车内饰与外饰展览会
时间:2018年8月15日-17日
地点:上海汽车会展中心(博园路7575号)
广东拓斯达科技股份有限公司 展位号:V036
China International Automotive Interiors and Exteriors Exhibition
Dates: Aug. 15-17 2018
Venue:Shanghai Automobile Exhibition Center(SAEC)
GUANGDONG TOPSTAR TECHNOLOGY CO., LTD BOOTH NO. :V036
拓斯达是一家创业板上市的智能制造综合服务商,专注于以工业机器人为核心的智能制造,以控制系统为核心的工业互联网技术。为各行业客户提供各种类工业机器人、应用解决方案、周边配套辅机以及整厂智能制造解决方案。在汽配、医疗、3C、食品、电子、光电、新能源等多个行业拥有完善的解决方案。销售服务网络覆盖全国二十多个省份,主要客户包含世界500强在内的企业4600余家。
本届展会,拓斯达将为您展示六轴机器人工作站、智能工厂MES系统演示、智慧整厂模拟项目等,为您生产改造、制造升级带来更多惊喜。
诚邀您莅临第八届中国上海国际汽车内饰与外饰展参观指导,敬请期待莅临展位V036。
Topstar is a intelligent manufacturing integrated service provider listed on the GEM. It focuses on industrial manufacturing with the core of industrial robots as the core and the industrial Internet technology as the core of the control system. Provide various industrial robots, application solutions, auxiliary equipment, and whole-plant intelligent manufacturing solutions for customers in various industries. In the auto parts, medical, 3C, food, electronics, optoelectronics, new energy and other industries have a complete solution. The sales service network covers more than 20 provinces in China, and the main customers include more than 4,600 companies including the Fortune 500.
In this exhibition, Topstar will show six-axis robot workstations, smart factory MES system demonstrations, and intelligent whole plant simulation projects, which will bring more surprises to production transformation and manufacturing upgrades.
Sincerely invite you to participate in the 8th China International Automotive Interiors and Exteriors Exhibition in Shanghai. Welcome to visit our booth V036.
1、拓斯达智能制造系统

智能制造执行系统—MES系统现场模拟演示。通过整厂智能演示及现场案例对接,MES系统带您一览信息化工厂全景数据,提供包括制造数据管理、计划排程管理、生产调度管理、库存管理、质量管理、人力资源管理、工作中心/设备管理、工具工装管理、采购管理、成本管理、项目看板管理、生产过程控制、底层数据集成分析、上层数据集成分解等管理模块,为企业打造一个扎实、可靠、全面、可行的制造协同管理平台。
Topstar Intelligent Manufacturing System
Intelligent Manufacturing Execution System - MES system on-site simulation demonstration. Through the whole plant intelligent demonstration and on-site case showing, the MES system takes you to overview the panoramic data of information plant, including manufacturing data management, planning and scheduling management, production scheduling management, inventory management, quality management, human resources management, work center, equipment Management modules such as equipment management, tool tooling management, procurement management, cost management, project board management, production process control, basic data and real-time data integration analysis. To create a solid, reliable, comprehensive and feasible manufacturing collaborative management platform for enterprises.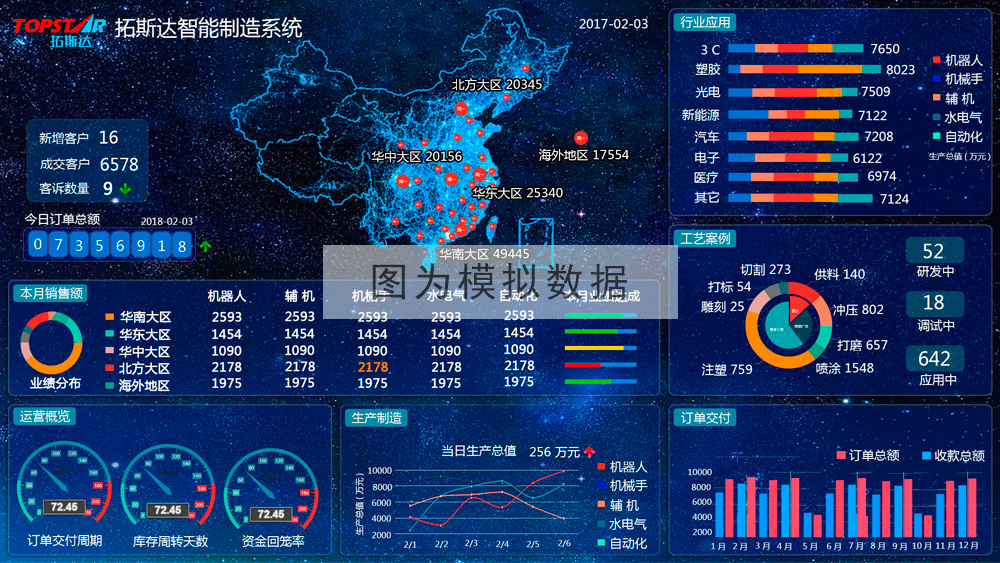 (上图为模拟数据 The above figure shows the simulation data)
2、拓斯达六轴机器人
拓斯达六轴机器人拥有紧凑稳定的机器人本体,采用世界领先的EtherCAT总线控制技术,具有高速度、高精度的特点,具备IP54防护等级机身,控制、视觉合二为一,安装简单,满足各种工作环境需求。
Topstar Six-axis robot
Topstar six-axis robot has a compact and stable robot body, adopts the world-leading EtherCAT bus control technology, has high speed, high precision characteristics, and has an IP54-protected body, which can meet the requirements of both the front loading, side loading, inverting, and various mounting methods. Various work environment needs.
3、机器人应用喷涂项目
供漆系统配有PD2K(Graco),可实现在水、油性漆间的自动切换,也可为客户定制1C1B,2C1B,2C2B,3C3B模式。
Robot Application Spraying Project
The paint supply system is equipped with PD2K (Graco), which can automatically switch between water and oil paint, and can also be customized for customers 1C1B, 2C1B, 2C2B, 3C3B modes.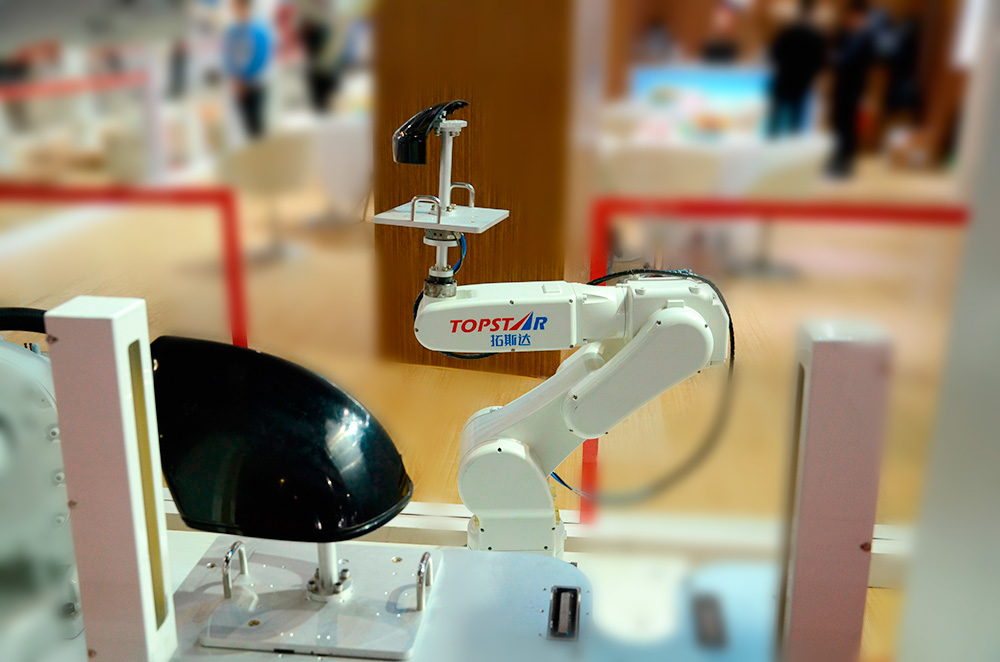 4、
一机多焊,一个周期完成两次放件,焊接两个不可同时完成的样件。人工智能操作,放件角度和焊接角度智能切换,符合人体工程学的标准。德国进口超声波元器件,质量保证,技术领先。特制PU胶定位底模,定位精准,保护焊件表面完好无损。
Ultrasonic Welding equipment
One machine welding two different items, one cycle to complete two items, two different items can be welded at the same time.Artificial intelligence operation, placement angles and welding angles are intelligently switched and conform to ergonomic standards.Germany imported ultrasonic components, quality assurance, technology leadership.Special PU glue positioning bottom mold, positioning accuracy, protect the product surface intact.
5、机器人抽奖体验
TSR工业机器人小空间中如何灵活运作?快来近距离操作工业机器人,体验操控机器人的快感,还有奖品等你领取。
Robot lottery experience
How can TSR industrial robots operate flexibly in a small space? Come and operate an industrial robot at a close distance, experience the thrill of manipulating robots, and there are prizes for you to collect.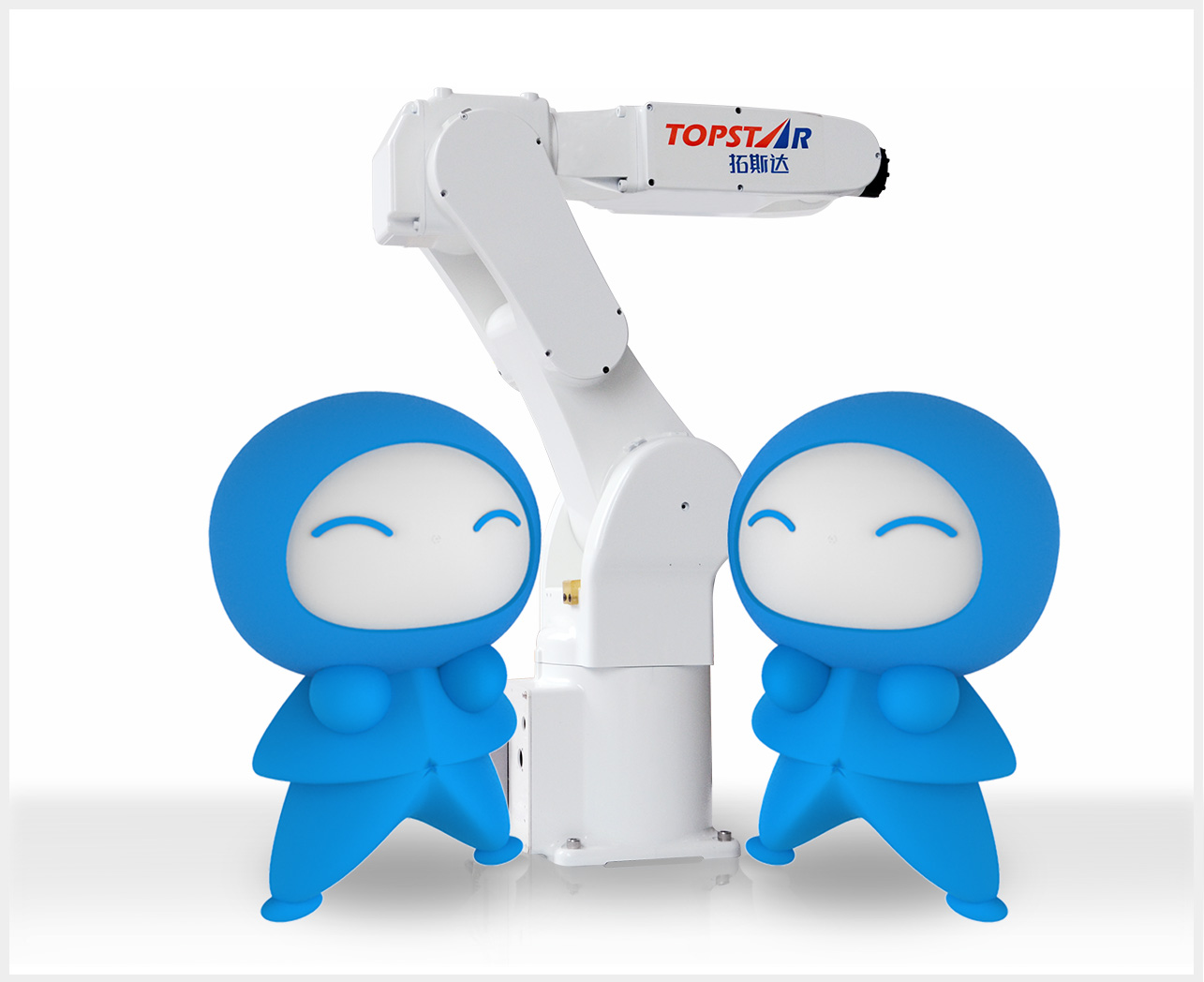 更多精彩产品敬请莅临展会现场
2019第九届中国上海国际汽车内饰与外饰展览会 版权所有
Copyright © All rights reserved.